A bush camp on the remote Cobourg Peninsula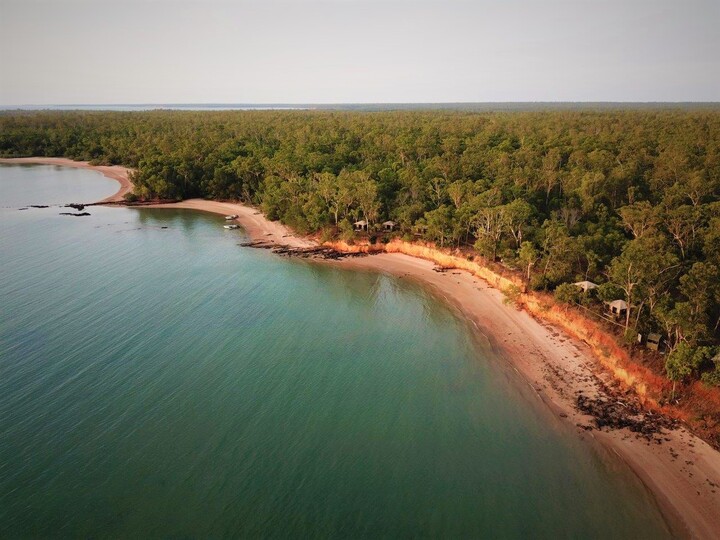 Cobourg Coastal Camp
Situated in Garig Gunak Barlu National Park, near the most northerly tip of the Northern Territory is the Cobourg Peninsula. Here, safari style tents are nestled amongst native bush, overlooking Port Essington, this is Cobourg Coastal Camp. The camp prides itself on it's 5 star experiences and is exclusive to guests of Venture North & Cobourg Fishing Safaris.
---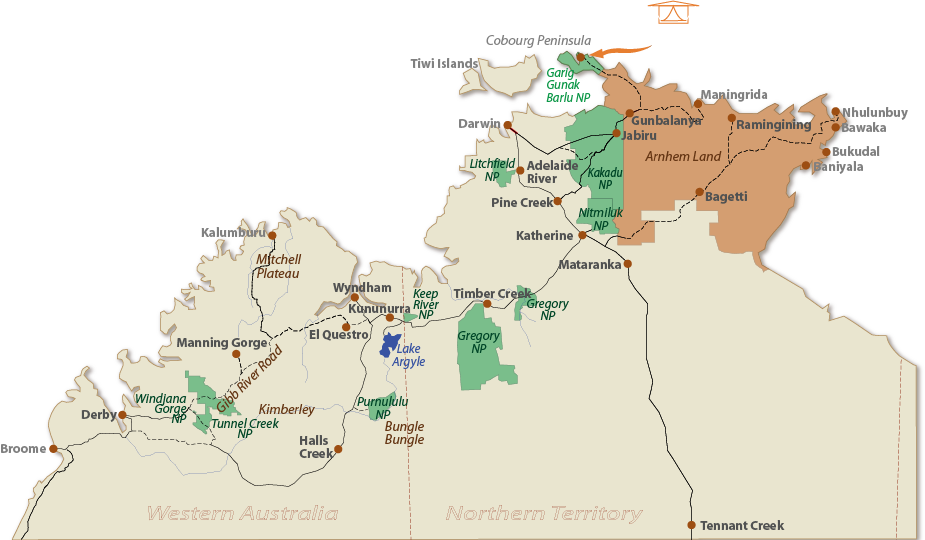 ---
The camp features 8 safari-tents on raised decks. The tents are open and airy, with the protection of net screens or for more privacy zip up canvas. Each glamping tent has two single, very comfortable sprung mattress beds, a side table, fans and a light. The verandas are idyllic, here you can quietly watch the world go by as you overlook the bay. Amenities are set behind the accommodation, and are individual showers and toilets linked by finely raked pathways.
Purposely designed to be very eco-friendly, the camp is predominantly operated via solar energy and gravity fed water, thus co-existing happily within nature. The showers are hot and embrace the outdoors by being open to the elements, eco-friendly products are on hand and items brought in are sensitively selected to minimise waste and environmental impact.
---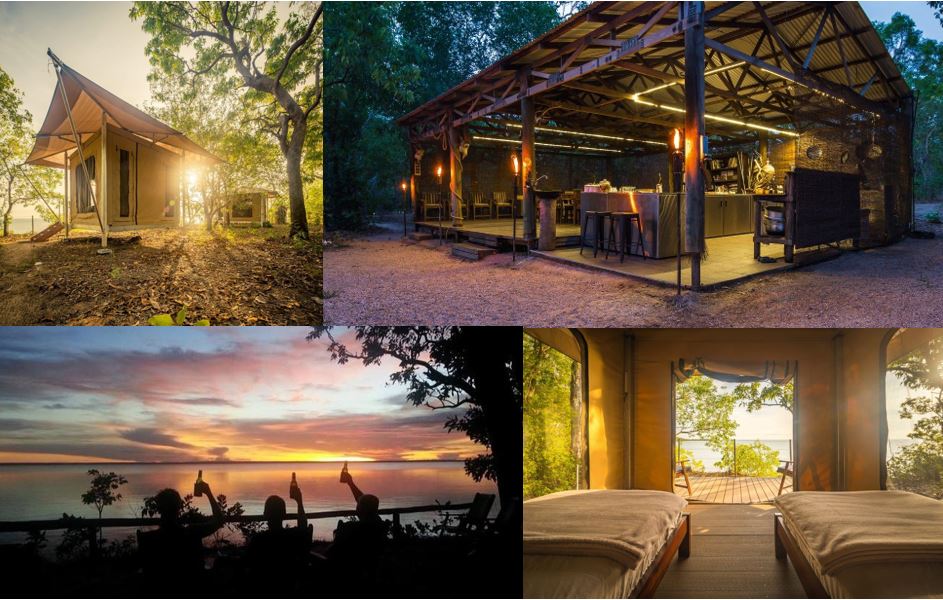 ---
There are communal spaces dotted around, with the main one being the open-air dining area. A big wooden shady structure is home to the modern sleek commercial-style kitchen, a large dining table accommodates all guests and staff with ease, which encourages topics of conversation to flow and include everyone. The extensive library and shelves of artefacts are an interesting sight, and freely available to anyone who wishes to browse some local literature. A lounge area and a selection of handcrafted traditional instruments finish the area off. Through the tree lined window is a wonderful ocean view, where pods of dolphins, jumping rays or crocodiles commonly cruise by.
The sunset area, as its name suggests, is where the locally caught and hand collected local delicacies such as mud crab, fresh fish, and oysters can be enjoyed with a beverage in hand. Within minutes of being seated, there is generally a conversation stopper of some sort, be it either a white bellied sea eagle flying low overhead or a crocodile coming up on the beach below. All are stories to be retold once back home in civilisation. A large fire pit fringed with seasoned logs and seating can be enjoyed after dark, and ideal place to sum up the day's events and lose yourself watching the flames flickering under a star lit sky.
You can visit the camp on a Venture North tour by road from Darwin, via Kakadu and Arnhem Land or fly in on a multi-day fishing charter with Cobourg Fishing Safaris.
We hope to see you at camp soon!